As I stepped onto the hallowed grounds of Quarry Park Disc Golf Course on International Disc Golf Weekend 2023, I couldn't help but feel a sense of nostalgia. This course has been an integral part of my disc golf journey since the late 1990s when Disc Golf Hall of Famer Derek Robins was shaping it into the gem it is today. Now, I often bring my kids along, and this time, my eldest son and I took on the challenge of the long course's red tees.
Course Overview
Established in 1994, Quarry Park is nestled amidst 20 acres of stunning Warwickshire countryside. It boasts 27 Innova Discatcher baskets and 10 DGUK Castle baskets, making it an impressive 37-hole playground for disc golf enthusiasts of all levels. The course layout is thoughtfully designed, offering a mix of open and wooded holes, catering to both beginners and experienced players.
Course Difficulty and Layout
With its picturesque setting along the Avon river, Quarry Park offers a pleasant mix of challenges. During my recent visit, the weather was a bit overcast with light rain and a fair breeze, adding a layer of excitement to our game. The course difficulty is rated intermediate, striking the perfect balance between approachable and demanding.
The long course, boasting 18 holes with an average distance of about 90 meters (295 feet), poses a formidable challenge for experienced players. Some holes feature steeper gradients, constantly demanding our attention and putting our skills and strategies to the test. One particular hole that I can't help but admire is Hole 12, a picturesque yet demanding challenge that consistently keeps me engaged. Looking at the side-by-side photos of Hole 12 – one captured back in 2000 during the course's early days and another showcasing its current state in 2023, adorned with the mature trees that embody Derek Robins' visionary dream – it's clear how this hole embodies both nostalgia and growth in my disc golf journey.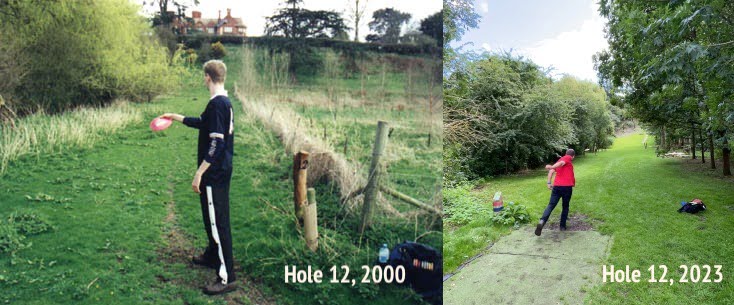 Hole 12 provides a delightful challenge, especially for primarily right-handed backhand throwers like myself. The strategic design and the array of obstacles keep players on their toes, requiring a precise and calculated throw to navigate the course effectively. With the riverside holes completed, the days of fretting about an errant throw landing in the water are behind us, allowing players to focus solely on honing their skills and embracing the joy of the game.
Course Amenities and Facilities
Quarry Park takes care of its players with a well-stocked pro shop, offering a wide range of disc golf equipment, soft drinks, water, and chocolate bars. The shop's friendly, knowledgeable, and helpful staff made our experience even more enjoyable. Whether you need new discs, refreshments to stay hydrated during your round, or a tasty treat to keep your energy up, the shop has you covered. Moreover, they now provide disc golf coaching sessions and clinics, a fantastic addition to support players' improvement on the course. The staff's passion for the sport shines through in their excellent service, making the whole disc golf experience at Quarry Park even more memorable.
The course is equipped with artificial grass tees on all main holes, and 14 of them have short and long tee positions, allowing players to tailor their experience to their skill level. Additionally, there are benches and trash cans scattered throughout the course, providing a chance to rest and keep the environment clean.
The Uniqueness of Quarry Park
One aspect that truly sets Quarry Park apart is the artistic touch found all around the course. Sculptures and creative elements add a delightful charm to the already beautiful surroundings. The love and passion poured into this course by Derek Robins are evident at every turn.
Wildlife and Scenic Beauty
As we navigated through the course, the Avon valley treated us to breathtaking views and glimpses of wildlife. The Avon river itself added a soothing element to the experience, making Quarry Park an oasis of serenity amid the competitive spirit of disc golf.
Quarry Park Disc Golf Course remains a quintessential destination for disc golfers of all levels. Whether you're just starting or a seasoned pro, this course offers the perfect blend of challenge, natural beauty, and a welcoming atmosphere. It's no wonder that players keep coming back for more. As I reminisce about my first visit back in the late 90s to now, I can confidently say that Quarry Park holds a special place not just in my heart, but in the hearts of all disc golfers who have walked its fairways.
As you embark on your own adventure at Quarry Park, remember to take a moment to appreciate the growth and evolution of this remarkable course, and cherish the joy of disc golf that unites us all. So gather your discs, invite your friends, and come experience the magic of Quarry Park Disc Golf Course – a haven where disc golf dreams come true.
Now, I'm off to practice my drives and fine-tune my technique for my next Quarry Park adventure. See you on the fairways!